Los grandes anunciantes en Internet ven las ventajas de anunciarse localmente orientadose a grupos de interes mas especificos.
National Advertisers Attracted to Local Trends
Large agencies say clients' interest in geotargeting on rise
Some large national advertisers have tapped daily deal sites or mobile check-in services like Groupon and foursquare to take part in the hyperlocal ad market, but many see those options as primarily benefiting small local businesses that need them to get traffic in the door. Large brands do want in on the local action, though, research suggests.
A spring 2011 survey conducted by Corona Insights and commissioned by local content site Topix found that 90% of national agencies had clients requesting geographically targeted online ad campaigns. The survey's respondent pool was small, but represented large agencies, half of which have revenues of $500 million or more annually.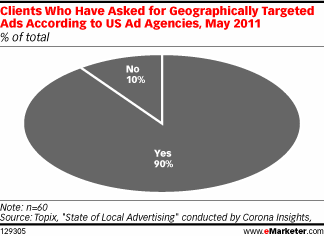 Among the nine in 10 agencies where advertisers had increased the amount of geotargeted ads they ran, more than half said client requests were up by at least double-digits from the year before, including 15% that said requests had more than doubled.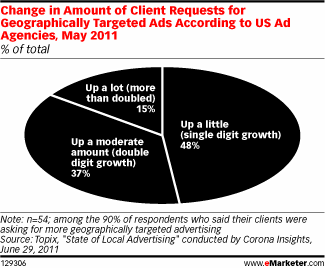 Directionally, the research shows that large brands are getting into the local ad market. Three in four survey respondents said geographically targeted ads were another important tool for reaching target audiences, and more than half said ROI on such ads was higher than for other buys. With the current rate of increase in client requests and the positive returns associated with local ads, marketers should expect the market to continue heating up.
"There's a significant amount of growth still available in the local ad market," Chris Tolles, CEO of Topix, told eMarketer. "With national agencies showing this uptick in hyperlocal ads, advertisers of all sizes are seeing the value of local."
In March, BIA/Kelsey forecast US local digital ad spending would reach $42.5 billion in 2015, up from $21.7 billion last year. The firm estimates local mobile spending will rise from $404 million to $2.8 billion over the same period.
---
Ir a la fuente
Author: