Smartphone shoppers more likely to convert in-store than non-smartphone shoppers
Brick-and-Mortars Take on Showrooming
Smartphone shoppers more likely to convert in-store than non-smartphone shoppers
Shoppers armed with smartphones have become a major challenge for some brick-and-mortar retailers, according to a new eMarketer report, "Adapting to a Showrooming World: How Retailers Are Earning Customer Loyalty." In 2011, InsightExpress found that more than one-half of smartphone owners said they had used their device for "showrooming"—looking at an item in a store before buying it online from a competitor at a lower price.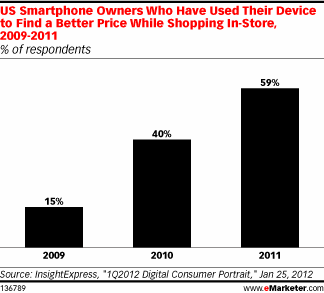 The showrooming phenomenon exposes two potential vulnerabilities for brick-and-mortar retailers. First, brick-and-mortar retailers likely have higher fixed costs than their web-only rivals, making it hard to compete on price. Second, they are dealing with consumers who are better informed, more demanding, and more aware of alternative sources of goods and services.
But there is hope and opportunity for retailers who reduce the risk of showrooming by making their websites more helpful to consumers doing online research prior to visiting a store. An October 2011 survey by the Cisco Internet Business Solutions Group found that nearly six in 10 US cross-channel shoppers began their shopping journey online before going to a store to make a purchase. Cisco noted that online research is most useful in the early phase—awareness and research—of the purchase funnel.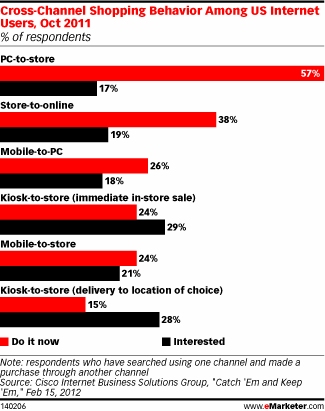 Moreover, a Deloitte study from March 2012 found that smartphone shoppers were 14% more likely than non-smartphone shoppers to convert in-store, even when those smartphone shoppers used a mobile app or site not belonging to the retailer. Specifically, 72% of shoppers who used their smartphone on their last in-store trip made a purchase while there, reported Deloitte. That's compared with 63% of shoppers who did not use a smartphone to assist in making a purchase during their last in-store trip.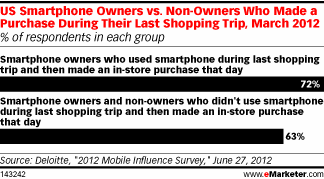 Deloitte also found that the in-store conversion rate for shoppers who used a retailer's own app or site was 20% higher than for those who used an app belonging to another business, such as an aggregator like shopkick.
Retailers that use showrooming behaviors to their own advantage reason that mobile consumers are a fact of life now. Failing to cater to them will only create more challenges down the line.
---